Haven Family Holidays Blog
Posted: 11th June 2013
On 22nd May 2013, the Blue Flag Beaches were awarded. Over 50 beaches in England received this prestigious award and some are very close to the Haven Holiday parks so you can really make the most of them on your holiday. If you love traditional seaside holidays then it's probably an important factor to you, that the beaches are clean and ideal for families.
Marton Mere is one of the Haven parks to benefit from a local blue flag beach. Blackpool Central Beach has been given the Blue Flag title and is within easy reach of Marton Mere.
If you are staying at Cala Gran the Fleetwood Beach has been awarded Blue Flag status. This park is located on the Lancashire coast and provides a relaxing and fun family atmosphere. Just 8 miles from Blackpool you are never far from the action.
Mablethorpe Beach has also been given this coveted award and you can be sure of a fun seaside holiday if you're planning a trip to Golden Sands holiday park. This park in Lincolnshire has direct beach access and indoor and outdoor pools to enjoy.
Cleethorpes is an ideal beach for families, and with the Blue Flag award you can be assured of cleanliness and safety. Close to Haven Thorpe Park in Lincolnshire you will be ideally located for fun days at the beach. This park has a countryside feeling as it's surrounded by fields and greenery but you have the best of both worlds with beach access too.
The Orchards is one of the most popular Haven parks and families love the facilities on site and of course the location. Clacton-on-Sea beach is close by and has been named as one of the 55 Blue Flag beaches.
If you are heading to Filey on a Haven Holiday then this beach has also been given the award. There are a few Haven parks in this area all set to benefit from this, including Primrose Valley, Blue Dolphin and Reighton Sands. Primrose Valley is one of the most popular parks in the region with a 5 star rating and fantastic views over the bay of Filey.
You might be wondering what gives a beach Blue Flag status? Many factors are taken into account and these include water and sea life health, safety, environment and facilities. Haven have always prided themselves on the seaside locations of most parks, many with direct beach access. Being close to such great quality beaches is a real bonus and really keeps the traditional British seaside holiday going strong.
An additional 133 beaches in England were rated clean enough to be awarded Seaside Awards (formerly known as Quality Coast Awards) by Keep Britain Tidy.
Posted: 8th June 2013
Having spent a total of £40m across 35 parks improving facilities, accommodation and landscaping, Haven has also realised the importance that many women put on having a little "me time". So while the rest of the family are fully occupied with the host of activities on offer, they have introduced luxury spas into some of their parks.

What better way to relax during your Haven Holiday than treating yourself to one of the many amazing treatments on offer. You will find the level of service is second to none and the value can't be faulted either.
Devon Cliffs Spa
You can experience complete calm at the £2.5 million Health Spa at Devon Cliffs in Exmouth. Here you will find not only a choice of 6 treatment rooms, but also an excellent fitness suite, complete with all the latest technology, plus a steam room, sauna, and jacuzzi. After participating in a world of calm and well being, you then have the option of chilling out on the sun deck. A visit to Devon Cliffs makes a fantastic Haven Holiday if you love being pampered.

Rockley Park Spa
Building on the success of it's first spa at Devon Cliffs, Rockley Park site in Dorset was the next luxury project to open. This Decleor Spa not only has 4 treatment and therapy rooms, but also offers a Spa Garden where you can enjoy hot and cold "wet experiences", all set within £350,000 worth of landscaping. You really will feel as if you have been transported to another world.

Spa at Haggerston Castle
Haggerston Castle was the next park to receive the Spa makeover. This popular Haven park, situated on the pretty Scottish border is the ideal retreat for a little pampering and provides a full menu, with Spa treatments for body, face and hands. Whether you are wanting to detox, rejuvenate or just unwind, this spar will provide it.

Body Treatments
A wide selection of body treatments and massages are on offer at Havens Luxury Spas and these are are all tailored to your individual needs. Using only the best products these massages are customised to give you a totally relaxing Spa experience. Amongst the treatments you will find on offer are the exotic Comfort Lomi Lomi Hawaian massage, using the elbows and forearms, or the popular Hot Stone massage, which is guaranteed to release tension from the body. Or how about a full skin and deep tissue massage, all leaving the skin soft and beautiful. This is just a small selection of what is available, but all of the professional masseurs will take you through the full collection of amazing body treatments and find one that is just right for you.

Facial Treatments
There is also a full range of facial treatments available using only the purest products which are customised to your skin type. These products include Anti-ageing Seaweed, Dead Sea Mud and Chocolate. There are also beneficial oils and minerals. Whatever you choose your skin will be left beautifully soft and hydrated making you look and feel rejuvenated and ready to enjoy your haven holiday.

Nail Treatments
Haven Spas can also offer you a selection of additional services, either to compliment your body and facial treatments or just to enjoy individually. You will find a full range of manicures and pedicures as well as nail treatments and relaxing foot and hand massages. Whether you choose to go for a sophosticated French polish, or try one of the numerous coloured modern nail varnishes, the experienced nail technician will carry out an amazing manicure to complete the new you and improve your feel good factor.
Posted: 5th June 2013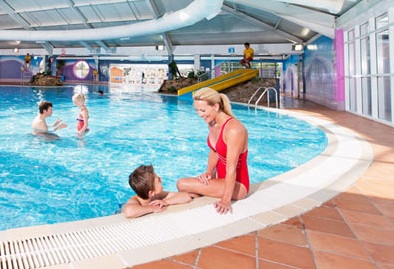 Haven Holidays - What's New at Haven in 2013

Haven has never been a company to sit on it's laurels, and understands the importance of having first class facilities while also keeping their parks updated to provide the very best for the modern day family.

Which is why 2013 has seen a large investment in many parks, not only refurbishing pool complexes, but also adding new eating places, and generally improving accommodation to meet the expectations of the discerning holiday maker.

With such a lot included in the price, it also makes Haven holidays excellent value for money. With over 35 coastal parks on offer, and a large investment on the Haven touring and camping side, you are guaranteed to find just what you are looking for.

Water Fun

Everyone enjoys time in the water while on holiday, which is why Haven have introduced pool Kayaking in all their parks (with the exception of Lydstep Beach). Children of all ages can learn to kayak in the amazing indoor and outdoor pools with fully qualified instructers. This is sure to provide great fun, while at the same time giving them a chance to learn a new sport, and keeping them active! If you happen to choose Golden Sands Park in Lincolnshire, then you will see a complete refurbishment of the swimming pool complex, plus a brand new changing village will be added, bringing it all up to a really high standard. Also the indoor pool at their Seaview Park in Dorset is going to be refurbished with a toddler area added in the pool making it ideal for the little ones, and again a new changing area included - so all in all exciting changes afoot.

Eat Drink and be Entertained

Haven are also upgrading the entertaining, eating and drinking venues, including exciting new menus introduced in all parks. For those heading up to Scotland to the Craig Tara site, The Mash and Barrel is having a posh new extension to include a fabulous terrace, where you can enjoy uninterrupted sea views while enjoying a relaxing drink or family meal. New fish and chip shops are been added to Greenacres in North Wales and the Devon Cliff park in Devon (also to include a brand new restaurant). For those heading to Noth Wales, the Presthaven Sands park is in line for a sparkling new lounge and entertainment venue, guaranteeing a touch of luxury while at the same time enjoying first class entertainment.

Haven Touring and Camping 2013

More and more holidaymakers are enjoying the freedom of touring and the great outdoors, so Haven have made vast improvements to the touring facilities. As well as adding some new euro pitches at the Cornwall Perran Sands Park, the touring block in Kiln Park South Wales will also undergo a large refurbishment. This will provide all the modern facilities that we now come to expect while enjoying all that a Haven site has to offer.
Posted: 30th November 2012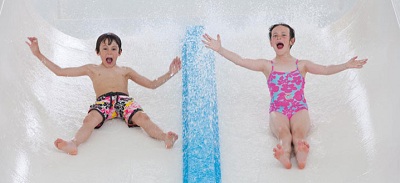 If you live in the North West of England you don't have to travel far for a fabulous holiday. With the bright lights of Blackpool as well as the stunning Lake District right on the doorstep there is plenty to enjoy.

The main Haven parks in this region are Marton Mere in Blackpool, Cala Gran in Fleetwood and Lakeland in Cumbria. All of these parks offer an excellent base for family holidays with plenty of family friendly facilities.
Marton Mere would really appeal to active families looking for fun and adventure. One of the main attractions has to be the Space Bowl flume at the centre of the swimming complex. Other popular activities on the park include archery and adventure golf. The location of Marton Mere is excellent too and you can even see Blackpool Tower from the park itself! Just three miles away and you're on Blackpool Promenade with all the fun at Pleasure Beach. For a fun day out in this area we also love the Sandcastle water Park which is actually the largest water park in the UK with 18 different slides. The Ghost Bus Tour which covers all the haunted hotspots of Blackpool is also recommended.
Cala Gran is another amazing Haven park in the region and will appeal to families. The setting of cala Gran is ideal, just a few miles from the beach. You are also just a short tram ride away from Blackpool Pleasure Beach. Other family days out close to Cala Gran include Farmer Parrs Animal World and the Madhatters Play Cafe and Party. of course, you may not even want to leave the park itself with so much going on. The outdoor children's SplashZone is the place to spend sunny days and the heated indoor pool is perfect for a relaxing swim or a splash about. You will find daytime and evening entertainment in the Showbar and the children will love the dedicated Kids Clubs.
Lakeland Holiday Park in Cumbria is ideally suited to families who love the outdoors. With the Lake District National Park on the doorstep it's perfect for walks and exploring. The park itself provides a haven of fun and relaxation. The whole family can try out the family pitch and putt and the heated swimming pools are a real bonus. Family days out in this area include the well loved World of Beatrix Potter and the South Lakes Wild Animal Park. Just one mile from Lakeland park is Ducky's Park Farm which the little ones will love.
Posted: 24th September 2012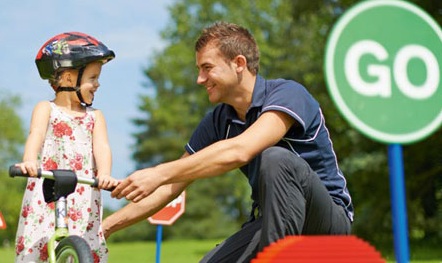 Haven holidays are all about families and Haven believe that the sound of your kids happy is the best sound ever. That's what Haven holidays are all about.
So what makes kids happy? Being by the seaside? Playing on the beach? Splashing around in swimming pools? Or maybe just spending time with family.
The 35 Haven Parks have carefully chosen their locations with many offering direct beach access like Golden Sands in Lincolnshire and Lydstep Beach in Wales - to name just a few. Family holidays at the beach create lovely childhood memories.
Of course you don't need to leave the park for family fun. Kids will love the water activities and array of indoor and outdoor swimming pool complexes at the haven sites. Church Farm in Sussex is a popular choice with a spacious heated pool indoors with flume. The outdoor pool is next to a heated covered sun terrace.
Another important part of haven family holidays is eating and drinking. Leave the washing up at home and enjoy delicious food served fresh to your table at the Mash & Barrell Lounge Bar Cafe or the popular Papa John's Pizza. Some of the parks also have traditional Fish and Chips shops, Burger King and Starbucks. With so much choice even the fussiest eaters are catered for. If you want to dine in the comfort of your caravan then the takeaway service at Papa John's Pizza is ideal. Check specific parks to see which restaurants and dining options are available during your stay.
Entertainment might be high on your list of priorities for a fun family holiday. If so you won't be disappointed. The Haven Fun Stars shows are full of music and laughter and all geared towards families. From the Ultimate Star Performer to the Retro Disco the acts are sure to make you smile.
UK family holidays are more popular than ever with the convenience of being able to drive to the parks and with plenty of great facilities right on the doorstep. Haven are dedicated to making sure family holidays keep their traditional seaside feel but with a modern twist with all the latest amenities, kids clubs and entertainment.
Posted: 29th July 2012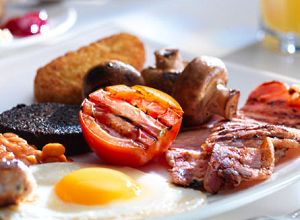 Sometimes it's great to have a hassle free holiday and what better what to take the stress out of your break than getting your meals sorted out before you go. You can concentrate on enjoying your holiday in the knowledge that your meals are taken care of and all you have to do is turn up and eat them!
Family meals are an important part of any Haven holiday - it's a time to get together and discuss the day's events or just sit back and relax.
Craig Tara holiday park now offers this fantastic half board option so all of this is possible. And knowing how expensive it is to feed a family - we think it's great value too.
The All-you-can-eat breakfast is a real highlight whether you want a full English or a continental feast. From eggs, sausages, beans and mushrooms to lighter cereals there is something for everyone. The evening meals are just as tasty with a wide selection of dishes. If you want to eat a healthy meal then opt for the jacket potatoes or fine fish dishes. Other options include a traditional roast and there are children's options too.
If this type of half board Haven holiday appeals to you then check out the accommodations at Craig Tara. Choose from twin rooms, family rooms or apartments. All of the accommodation provides a comfortable home from home experience.
Posted: 17th June 2012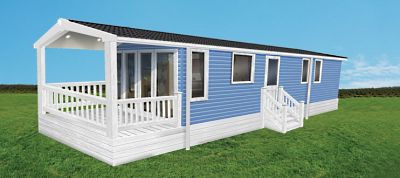 Haven have really showed what they have in store for the future with their new Seaview Village development. Located at Combe Haven holiday park, this fabulous holiday village combines style and luxury with a traditional UK seaside holiday feel.
The new style Holiday Homes are well spaced out providing space and privacy - something which holidaymakers place importance on. And the gorgeous palm trees and pampas grasses surround the Homes making the outlook from the Holiday Homes stunning.
Footpaths run through the Seaview Village and lead to three well designed play areas. There is plenty of grassy space for children to play too. The accommodation ranges from Platinum and Prestige Holiday Homes to the new Retreat Holiday Homes and Summer Houses with a seaside theme.

The new style accommodations are painted in lovely pastel colours on the outer side (a bit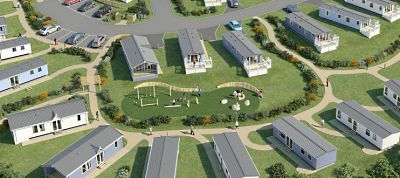 like a beach hut) but inside there is a real sense of luxury and space. The layout is open plan which is perfect for family living.

The fully fitted kitchen is well set out for self catering and the stylish lounge area is decorated in a fresh blue and white theme. Accommodation comes with it's own outdoor space such as decking or a patio.
If you fancy a UK holiday with a difference this year then give this new village at Combe Haven a try. It really does give a fresh feel to UK seaside holidays and a touch of luxury for the discerning holidaymaker.
Check Availability & Prices >>
Posted: 11th April 2012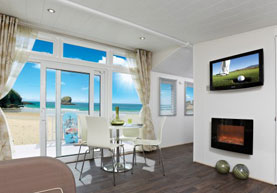 Ooooh we love the new Summer House accommodation due to be launched by Haven at some of it's parks this year.

Providing ample space for families, the Summer Houses are 28ft x 13ft with full height windows in the lounge. This design allows the slight to flood in and gives the accommodation a bright and airy feel.
And that's not all. With a fantastic beach themed decor you'll really feel like you're by the seaside - which you probably are if you're staying on a Haven Park.
Some of the highlights of this new beach style accommodation include a King Sized bed in the main bedroom, a twin room with single beds, family bathroom and even an en suite.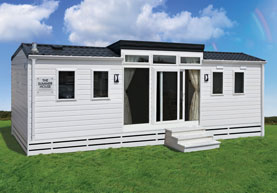 The flat screen TV will add a touch of luxury to the place whereas the heating in the bathroom and bedrooms ensure a cosy stay.
Haven Holiday Parks that are due to have Summer Houses are Blue Dolphin, Combe Haven, Doniford Bay, Greenacres, Lakeland, Thorpe Park, Quay West, Riviere Sands, Seashore and Wild Duck.
We can't wait to try them out!
Posted: 28th March 2012
This Easter Haven have some great deals with holidays from just £149 - for the whole family! Taking the kids away in school holidays gives you the chance to spend some quality time together and enjoy the fresh air and lovely weather.

Most parents agree that it's easier to keep the little ones entertained on holiday, so why not take it easy this Easter? Children will love the indoor pools, kids clubs and beach access while you can relax and re-charge the batteries.
Haven Easter Holidays from £149 >>
Posted: 26th March 2012
We just had to tell you about this amazing 48 hour Easter sale.

Save an extra £10 per night on loads of holidays for Easter 2012 - this adds up to big savings! Book a bargain family holiday in the next 48 hours to take advantage of the offer. Must end Wednesday 28th March 2012 at 5am.
At the time of writing there are 478 offers found. Just a few of our favourite parks taking part in this offer include:-
Allhallows in Kent - This family friendly park has some amazing deals on holidays starting Friday 30th March. The fabulous outdoor pool complex is sure to keep the whole family entertained whereas the exciting stage shows are the perfect end to a busy and fun day.
Blue Dolphin in Yorkshire - This lovely park is located in the North East of England and would suit families with young children especially. The heater indoor pool means there is always something to do - even if the weather isn't kind. Some of the popular activities include Go Carting and the Water Walkerz available to hire in the pool. Beach access is just 3 miles away.
View all Easter Holidays in the 48 Hour Sale >>
Posted: 19th January 2012
We thought we'd remind you that the amazing 50% off holidays deal ends on 31st January 2012. So if you haven't got round to booking your 2012 break yet then now really is the time. Deals like this don't come around every day.
This deal applies to Spring, May, June and July holidays but excludes school and bank holidays.
Haven have 35 UK Holiday Parks to choose from. Many have coastal locations and direct beach access making them ideal for family breaks. Families with young children make the most of the gorgeous sandy beaches and coastal walks. Older children love the facilities and activities on the park from Kids' Clubs to sports activities.
And of course the famous Haven leisure complexes are hard to beat. Some of the holiday parks have undergone major renovations creating fabulous swimming pools with slides and SplashZones.
Haven accommodation is perfect for families too. With self catering holiday homes to suit any style and budget why not have a browse at the options? If you fancy living in luxury then a Platinum or Prestige holiday home will suit you. Full of mod cons and offering plenty of space these holiday homes are for the discerning traveller.
Standard Homes are excellent value offering everything you need for a self catering holiday. Save your money to spend while you're there. The most popular option are the Deluxe Homes which offer open plan living space and ample storage.