Food & Drink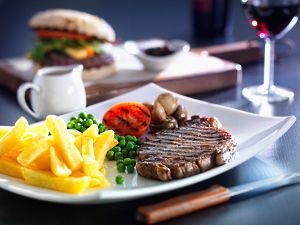 Dining together as a family can be an important part of your holiday.
It's a chance to catch up on the days events and spend quality time together, something you might not always have time to do at home.
Self Catering holidays are about flexibility and freedom so Haven have provided plenty of options for family meals, snacks, takeaways and even coffees.
Eat at times to suit you in fine dining restaurants, relaxing eateries or perhaps enjoy a takeaway in the comfort of your Holiday Home. Everything is on the doorstep so the choice is yours!
Mash & Barrel: Lounge-Café-Bar

The Mash & Barrel: Lounge-Café-Bar is a popular choice for a laid back three course meal or even just a snack and a few drinks. The menu is well thought out and varied. Just some of the options at the time of writing are Bangers & Mash, Fish & Chips, Cheese Burger, Pasta Carbonara and Tuna Mayo Salad. There are healthy options such as Low Fat Chilli Con Carne and Jacket Potatoes too.
It's also a fantastic place to go for breakfast where you can enjoy the Famous Big Breakfast, Traditional Breakfast, Omelette Breakfast or perhaps just Toast and Juice. The atmosphere is always warm and welcoming and the decor contemporary and inviting. There are seated areas for food and more informal lounge areas where you can enjoy a few drinks.

Papa John's Pizza

Pizza is a firm favourite for many families and is especially popular with kids and teenagers. The delicious Papa John's Pizza serves up a wide range of mouth watering pizzas from tasty and traditional to tangy and spicy.
There's also the choice of delicious pasts dishes. Choose to order a takeaway and enjoy your pizza or pasta in your Holiday Home, relaxing after an eventful day. What better way to end the day.

Summertime Barbecues

In the summer you might like to dine al fresco and take in the smell of smokey fresh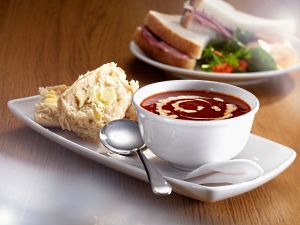 barbecues. The Haven Summertime Barbecues are one of the things that make the Haven parks stand out from others. Get the whole family together and enjoy a meaty feast.

Costa Coffee

Sometimes you just want to recharge the batteries and enjoy a tempting cup of freshly ground coffee. If so head to Costa Coffee available on some Parks where you can enjoy a warming drink and a snack.

Please Note
These dining options are an overview of what is available on the various Haven Parks. Not all options are available at all Parks. Please read the detailed pages on each Holiday Park to find out what's available during your holiday. Menu examples are just a sample of what may be available but menus are subject to change at any time.
---