Swimming Pools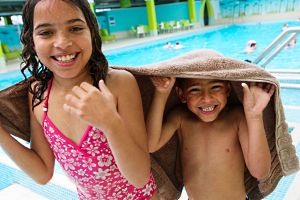 Swimming Pools can be a big part of your holiday - somewhere the whole family can have a splash about and kids can burn off all of that energy.
Indoor heated pools are also the perfect place to hang out on rainy days, so you don't have to depend on the British weather to have a great time.
A Haven holiday is a fun and safe holiday. All of the pools are heated, both indoor and outdoor and you have the peace of mind that they are controlled by fully qualified lifeguards.
Many of the Haven water based activities are free of charge including the Water Confidence sessions for children aged 4+. These are available on off peak dates only and you need to book when you arrive at the Park, as they're very popular. The sessions are all about having fun while building confidence in the water. The children also take away a certificate at the end of the session, a little something they can be proud of.
For older children and the more adventurous there are some fantastic water based activities including Water Walkerz, Turbo Paddlers and AquaJets. There is a moderate extra charge for some activities.
AquaJets - These are powered submersibles allowing you to twist and turn through the water using controls. AquaJets are for the kids aged 8 plus who can swim 25m unaided.
WaterWalkerz - Popular see through bubbles which you step inside and walk and roll across the water. This is fantastic fun for kids aged 5 plus in inflatable pools and aged 8 plus in 1.1m deep pools.
AquaGliders - These are small powered inflatables (similar to Jet Skis but child friendly) used to whizz around the water. Kids love these AquaGliders which are sure to make your holiday a memorable one. Suitable for 5-7 year olds.
Turbo Paddlers - Like a pedalo boat but for the pool, and with massive wheels! Pedal as fast as you can to really kick up a storm in the water. Suitable for 4-8 year olds.
---